The « Ferme des animaux »

– Animal Farm – is at last reality.
"We have just acquired La Ferme de la Hardonnerie. Situated northwest of the

Meuse

, the property comprises a house, two big barns and 44 hectares of fields around it.
It has all the qualities we were seeking to provide refuge to more than 300 abused, exhausted and/or sick animals, victims of intensive farming.
Every horse, sheep, goat, cow, pig, rabbit, duck, chicken will be able to enjoy the pleasures of a life of which they've been cruelly deprived.
Our farm is also close by the Butte de Vauquois, a First World War Historic Monument site which receives 20, 000 school visitors a year. So we are in the happy position of being able to develop visits aimed at raising awareness among children and their parents about the cruelty of intensive farming.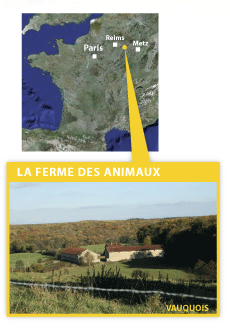 That's the first hurdle crossed. The second is now to set up the farm as a shelter for the animals, with fenced areas for all the species we are preparing to take in.

As an example of what donations will fund:
Wooden fencing for 8 hectares of pasture for horses comes to 4, 500 euros… or 100 donations of 45 euros.
The building of two little wooden houses for rabbits is 600 euros per house…that is 20 gifts of 30 euros.
Installing a drinker for sheep or goats is 55 euros…
Thanks to Ghislain Zuccolo, Director of Protection Mondiale des Animaux de Ferme (PMAF) www.pmaf.org – the French version of Compassion in World Farming.